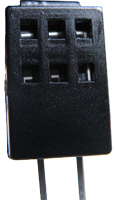 SHC180  capacitive humidity sensor Meet the broad scope of application , Excellent linearity in high Performance areas , For the fabrication of the SHC180 Series, semiconductor fabrication technology is utilized.
can be used in shopping malls, Indoor and car air quality control, office automation, medical, industrial control systems and a wide range of research areas, It also can be widely applied occasions with temperature retrieves performance.
1、Characteristic
High performance-price ratio, excellent linearity, excellent linearity. Compatible with automatized assembly processes, including wave soldering,reflow and water mersion. High reliability and long term stability Suitable for linear voltage or frequency output circuitry.Fast response time ,Seismic resistance.

2、Maximum ratings (at25℃ 10kHz  unless otherwise noted)
| | | | |
| --- | --- | --- | --- |
| Ratings | Symbol | Value | Unit |
| Operating Temperature | Ta | -40~125 | ℃ |
| Storage Temperature | Tstg | -40~125 | ℃ |
| Supply Voltage | Vs | 10 | Vac |
| Humidity Operating Range | RH | 0~99 | %RH |
| Soldering @ T = 260°C | t | 10 | S |